All your essentials (in one click)
Get everything your skin needs in one go and get on with your day.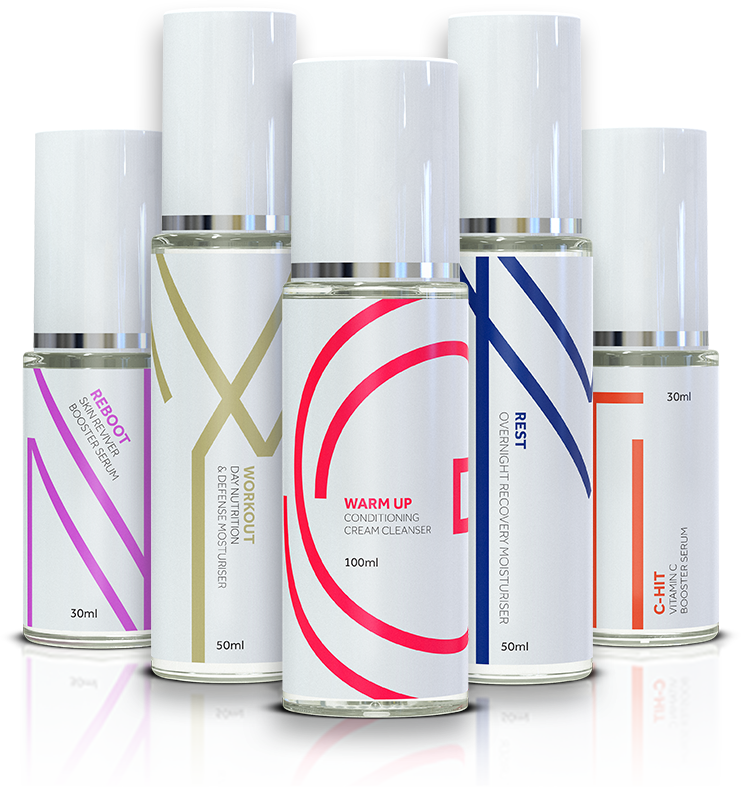 Shop the essentials for your current skin condition, save money (and time).
Glorious skin in 28 days
Everything you need to get and keep brilliant, vital skin.
Our daily essentials kit includes 1 x cleanser, 1 x exfoliant, 1 x day nutrition, 1 x overnight nutrition
You asked, we delivered. The QVC kit.
Add A-Hit Booster Serum for an intense hit of retinol.
An optional vitamin infusion (for when you need an extra hit)
If skin is undernourished, ignored, mistreated or experiencing periods of extreme (ill health, stress, unruly hormones, temperature extremes) it will turn on you. So the next time yours flies off the handle, choose our skin 'freak out' taming vitamin boosters. The clinical strength actives will give it a real talking-to and knock it into shape. A- hit is for anti-blemish, anti-ageing and pore minimising. B-hit is for brilliance. Vitamin B builds your skin's resilience to dryness, the environment and sensitivity leaving skin naturally dewy. C-hit is for collagen (plumping), clarity (patchiness) and clearing (spots and irritation).
Ditch the suds and start rebuilding your skin.
It's possible you've gone totally natural on your sensitive skin and believe clinical-strength skincare to be off limits for you, which means you've probably been unable to get away from redness, sensitivity, and irritation. Enter GFYS. It is not a sticking plaster. It's transformational, works hard to rebuild your skin and is gloriously good for you too.
Aggravate them and they'll get angrier. Be kind to them and they'll listen to you.
Unlike other anti-blemish and pore minimising routines, our 'Why am I so spotty' skincare regime is not based on degreasing, sudsing cleansers and harsh antibacterials that do little to heal breakout activity and frequently leave the skin sensitised and damaged.
Wake up. Be awesome. Everyday.
With the full 'Power of 7' kit, we wrap up the full extent of our trained aesthetician expertise into a holistic and adaptable skincare routine. As a good rule of thumb we recommend the Core Four everyday. This set of products allow you to build a solid foundation and maintain healthy skin. Use the 3 vitamin booster serum to reset, enhance everyday results or have on hand for any skin freak outs.
Your warm up is risk free!

If you don't love your first bottle of Warm Up Conditioning Cleanser, we'll happily provide a full refund or exchange within 30 days for your first bottle. No questions asked.
✕